The Hilltop Health Care Reform Simulation Model, a financial modeling tool that projects the costs and savings to states as they implement the provisions of the Affordable Care Act (ACA), is now available to states who want to use it to make these projections.
The Hilltop Health Care Reform Simulation Model is a dynamic simulation model that can be updated. Hence, its projections are revised as new data become available, conditions and factors change over time, and decisions are made by policymakers, employers, and consumers. It projects population insurance coverage through Medicare, Medicaid, commercial insurance, the insurance exchange, and the remaining number of uninsured individuals following implementation of the Affordable Care Act (ACA) in the state. The model also projects the impact on the state's budget, the increases in health care expenditures, and the economic impact of implementing the ACA through 2020.
In 2010, the Maryland Health Care Reform Coordinating Council (HCRCC) contracted with The Hilltop Institute to provide analysis and technical assistance for the HCRCC's work. As part of this work, Hilltop researchers, led by Hilltop Director of Economic Analysis S. Hamid Fakhraei, PhD, developed a population-based modeling tool to project Maryland's costs and savings associated with implementing the provisions of the ACA. The HCRCC used the findings to help determine their recommendations to the Governor regarding Maryland's implementation of the ACA. The model was first described in Appendix F of the HCRCC Interim Report.
In 2011, the state of New Mexico asked Hilltop to revise and adapt the model based on the state's demographics and economic data. Hilltop expanded the model to simulate employers' offers and employees' take-up of insurance coverage. The study's findings are now used to inform the decisions of New Mexico policymakers as they implement health care reform.
Hilltop continues to provide research and technical assistance to the state of Maryland as it implements the ACA. In 2012, the Maryland Health Benefit Exchange contracted with Hilltop to revise and expand the Hilltop Health Care Reform Simulation Model. This most current simulation model projects the flow of new funds through the state economy resulting from the provision of health care coverage to newly insured individuals. It also uses an economic model to forecast additional economic activity that will be generated from implementing the ACA. Read the Maryland documents.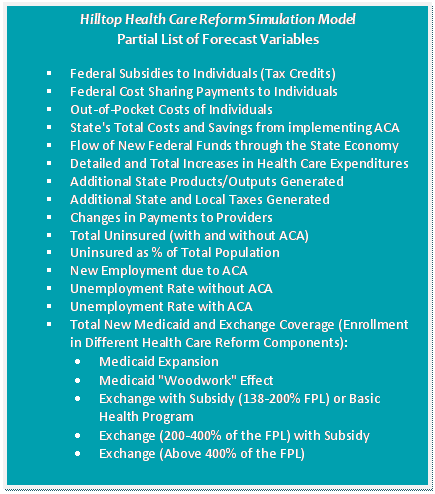 See a slide presentation describing the model.
The Hilltop Health Care Reform Simulation Model is adaptable to all states. States can access the model and engage Hilltop to provide consultation and guidance on how to use it.
States interested in learning more about the model should contact Dr. Fakhraei at hfakhraei@hilltop.umbc.edu.