The Hilltop Institute's Hospital Community Benefit Program has just released a new online resource, the Community Benefit State Law Profiles, as well as a companion issue brief.
The Profiles are a compilation of each state's community benefit laws and regulations, analyzed in the context of the ACA's community benefit framework. Each state's Profile can be individually accessed through an interactive map on the Hospital Community Benefit Program website or by clicking on the image below.
Community Benefit State Law Profiles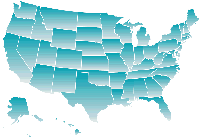 The Profiles use the ACA's federal community benefit requirements as a framework and context for comprehensive analysis of each state's community benefit landscape, including community benefit laws, regulations, and the tax exemptions that most states make available to nonprofit hospitals.
This new online resource can be used:
As an analytic tool for assessing state regulatory approaches in the context of federal community benefit standards
To identify similarities and differences in community benefit policies and the legal landscape from state to state
To describe a baseline for each state's community benefit framework that can be used to track future state-level community benefit legislative, regulatory, and policy initiatives
To facilitate policymakers' consideration of their states' community benefit requirements compared to those of other states and federal community benefit benchmarks

The companion issue brief, Hospital Community Benefits after the ACA: The State Law Landscape, presents the Profiles' findings and begins the analysis—in effect, viewing state community benefit standards through the lens of the ACA—to facilitate a better understanding of each state's community benefit landscape and its significance in the context of national health reform.

For more information, contact Martha Somerville.
Hilltop's Hospital Community Benefit Program is the central resource created specifically for state and local policymakers who seek to ensure that tax-exempt hospital community benefit activities are responsive to pressing community health needs. The program provides tools to these and other stakeholders to use as they develop approaches that will best suit their communities. The program is funded for three years through the generous support of the Kresge Foundation (www.kresge.org) and the Robert Wood Johnson Foundation (www.rwjf.org).
The Hilltop Institute at the University of Maryland, Baltimore County (UMBC) is a non-partisan health research organization dedicated to improving the health and wellbeing of vulnerable populations. Hilltop conducts research, analysis, and evaluations on behalf of government agencies, foundations, and nonprofit organizations at the national, state, and local levels. Hilltop is committed to addressing complex issues through informed, objective, and innovative research and analysis. To learn more about The Hilltop Institute, please visit www.hilltopinstitute.org.